HD Car Projection Benefits
The Benefits of HD Car Projection/Plate Capture vs. Green Screen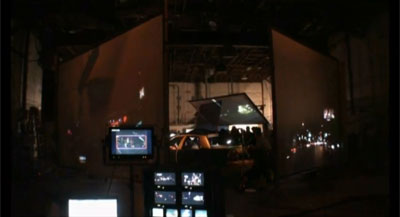 24frame.com, a 10 year+ experienced Video Playback Company, is improving on history and saving productions big money by bringing back an advanced version of an old special effects method: Rear Screen Projection.
Now called HD Vehicle Projection, this method is regaining popularity among productions in place of Green Screen.
The advantages to using 24frame.com's HD Vehicle Projection Process and Plate Capture over green screen are as follows:
1. More cost effective than green: These screen shoots can prolong production because every time a lens or position needs to be changed in green screen a new matte needs to me made. Our HD projection eliminates unnecessary expenditures and is more time efficient.
2. Offers the Director and DP more flexibility and freedom while filming. They get to review and select plates before shooting.
3. The actors can interact with the footage and get feedback on their performance: We place a monitor in front of the actor that shows them where they are driving in the footage.
4. It is immediate footage At the end of the day the shoot is done, no post work necessary.
5. With our GPS capture we can match exact locations and time of day/night where production has already shot and go back for re-shoots at those exact coordinates. It is multi camera angles all shot at the same time to get plate footage.
6. It is more believable: no green glow on actors; HD quality; special screens and devices that create realistic window reflection on vehicles.
7. Same day setup in 2.5 hours and as short as one hour, (unless call time is early then set up is day before with 2 Y3 operators. Only charged for labor on prep day and not equipment). This is much less time than green screen set up.
8. We have shot as many as three episodes in one day.. Number varies depending on scenes. (We shot 2–3 episodes per day on the series).
9. We can also capture any kind of moving vehicle/object (planes, trains, automobiles, boats) and project it. (we did the plane flight/landing projection for the Desperate Housewives season finale).
24frame.com HD Vehicle Projection and Capture method is becoming a new viable solution for realistic vehicle scenes at comparatively lesser expense.
We Are The Company You've Heard About
DP's hail "best plates in the business"
944 Venice Blvd, Los Angeles CA 90015
Phone: 213-745-2411
Fax: 213-745-2410
<iframe src="https://www.google.com/maps/embed?pb=!1m18!1m12!1m3!1d3306.1382741469747!2d-118.27929638515681!3d34.04032398060916!2m3!1f0!2f0!3f0!3m2!1i1024!2i768!4f13.1!3m3!1m2!1s0x80c2c7954218e503%3A0x8b140fbb9d70aef8!2s944+Venice+Blvd%2C+Los+Angeles%2C+CA+90015%2C+USA!5e0!3m2!1sen!2sph!4v1507130842797" width="100%" height="600" frameborder="0" style="border:0" allowfullscreen></iframe>